Are you ready to take your online presence to the next level? Building a website is a fantastic way to connect with your audience, share your passion, or grow your business. But we all know that hosting costs can add up quickly, making the journey to creating your online space feel daunting. That's where GTERA Hosting comes in to save the day!
Introducing GTERA Hosting's FREE Hosting Offer
At GTERA Hosting, we understand the importance of a strong online presence, and we want to make it as accessible as possible for everyone. That's why we're thrilled to offer you FREE hosting when you create a website with us! 
Here's why you should jump on this incredible offer: 
1. No More Hosting Fees
Say goodbye to those monthly hosting bills! When you choose GTERA Hosting to build your website, we provide you with hosting absolutely FREE. That's more money in your pocket to invest in other aspects of your online project. 
2. Easy Website Creation 
 We've designed our platform to be user-friendly, even for beginners. With our intuitive website builder, you can bring your vision to life with ease. No coding skills required! 
3. Blazing-Fast Speed
Did you know that website loading speed is crucial for user experience and SEO? With GTERA Hosting, your website will load lightning-fast, ensuring your visitors stick around and engage with your content.
4. Rock-Solid Security
We take your website's security seriously. Our hosting solutions come with top-notch security features to protect your data and your visitors' information.
5. Scalability 
As your online presence grows, we've got you covered. Our hosting solutions are scalable, so you can expand your website effortlessly. 
6. 24/7 Support
Have questions or need assistance? Our dedicated support team is available 24/7 to help you with any issues or concerns that may arise along the way. 
How to Get Started
Getting started with GTERA Hosting and claiming your FREE hosting is a breeze: 
1. Open your web browser and go to the Gtera Hosting website
       (www.gterahosting.com)
 2. Scroll down our website and click the "Get started" button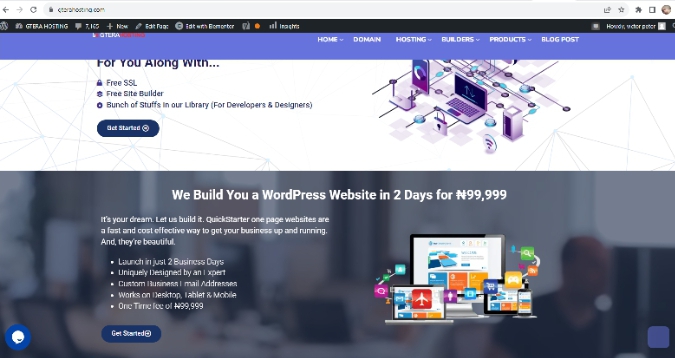 3. Now you would be asked to choose your domain name for your website (register a new domain, transfer a domain, or use an existing domain) and other hosting options from the form provided select the one that best suits your needs and click "Continue"                                                          
 4. Review your domain name selections and any addons that are available for them select them and click "Continue"
5. Now you can review your cart and proceed to checkout.
 6. Follow the on-screen instructions to create your account. You'll need to provide your personal informations,  payment details and setup a password, then you can proceed to "Complete order"
7. Enjoy FREE hosting for a year  and watch your online presence thrive! 
Don't miss out on this amazing opportunity to save on hosting costs while building the website of your dreams. Join GTERA Hosting today and embark on your online journey with confidence!
Conclusion
Creating a website has never been more affordable and accessible than with GTERA Hosting's FREE hosting offer. Say goodbye to hosting fees, and hello to a powerful online presence. Start building your website today and unlock the limitless possibilities of the digital